How to produce the silicone phone case?
About the whole process of making the silicone phone case by machines,
it needs several machines, because the silicone material with solid silicone
and liquid silicone, it needs machine to handle the silicone material before
produce the silicone phone case.
It needs machines, mold, raw silicone material, our factory manufacture
the machine and mold, and here are the machine you need make for
the silicone phone cover, let me introduce the functions of all the machine
we support for you: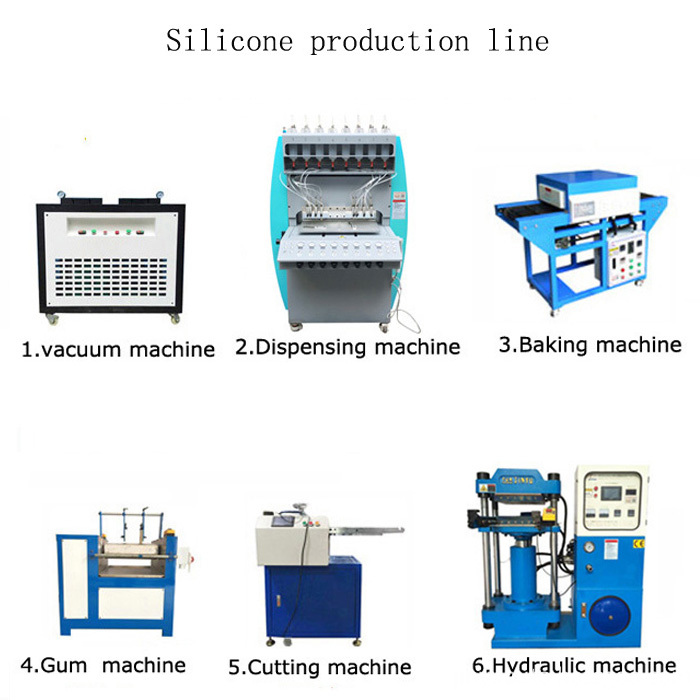 1.vacuum machine: mainly for removing the air and bubble at the liquid silicone, before making the products, it needs the machine.
2.dispensing machine: we also call it dropping machine, dripping machine, injection machine, the mainly function is for filling the
multi color logo on the mold, can be controlled by the computer.
3.baking machine: mainly function is for drying and baking the liquid silicone on the moild
4.gum machine:mainly for mixing the solid silicone and color, because the raw silicone without any color.
5.cutting machine: mainly for cutting the solid silicone into one piece, can avoid to waste the material.
6.hydraulic machine, we also call it molding machine, curing machine, for heating pressing, and make the solid and liquid silicone
keep the shape.
Next: Hydraulic flat-bed embossing machine for car seat cover
Previous: How to avoid bubbles in liquid silicone embossing process?